Tickets
Tickethotline
030/2060708899
Premium Tickethotline
030/2060708844
The UFC FIGHT NIGHT BERLIN live at o2 World Berlin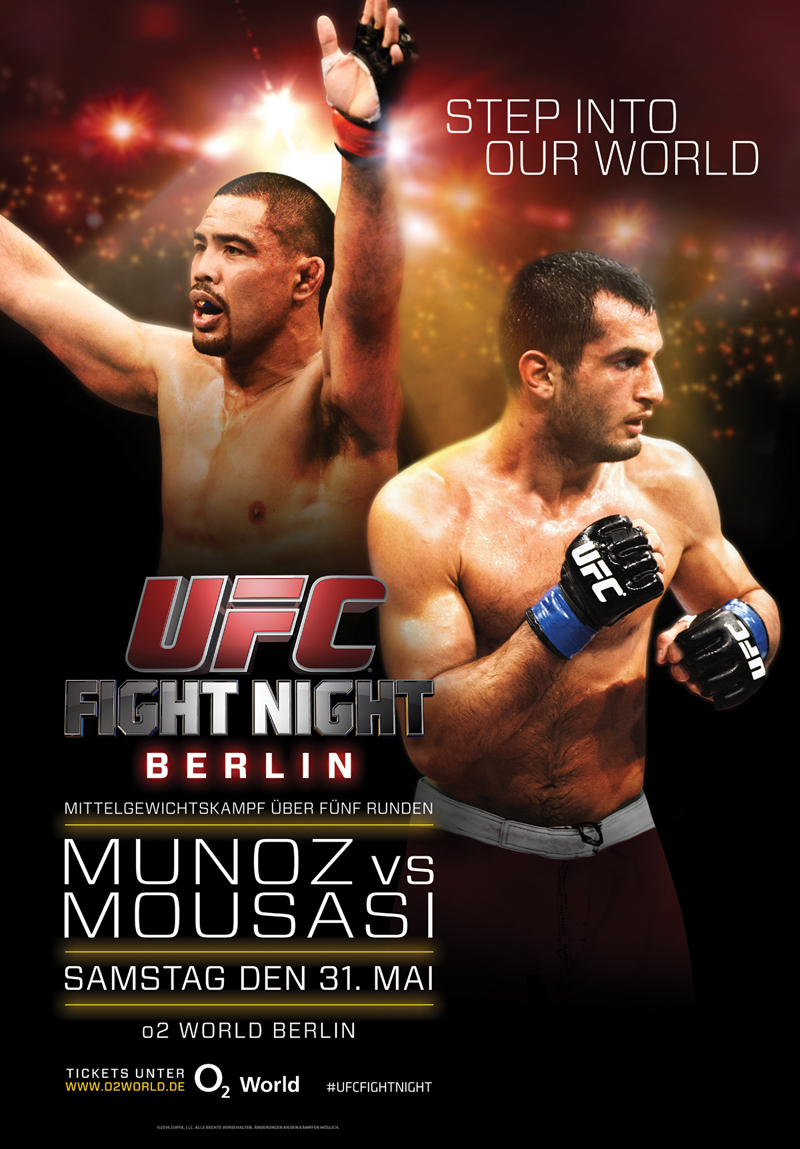 Minimum age for admission: 18 years.
Info on official weigh-in below!
The Ultimate Fighting Championship (UFC), the world's premier mixed martial arts organization, has announced that it will make its long-awaited return to Germany with UFC FIGHT NIGHT BERLIN on 31 May 2014 at the O2 World Berlin.

The main event will feature the two middleweights Gegard Mousasi and Mark Munoz.
The following fights have been confirmed:

Main Event:
Mark Munoz vs. Gegard Mousasi
Co-Main Event:
Francis Carmont vs. CB Dollaway

Other Fights:
Nick Hein vs. Drew Dober
Luke Barnatt vs. Sean Strickland
Peter Sobotta vs. Pawel Pawlak
Magnus Cedenblad vs. Krzysztof Jotko
Andy Ogle vs. Maximo Blanco
Ruslan Magomedov vs. Viktor Pesta
Luri Alcantara vs. Vaughan Lee

Garry Cook, Executive Vice President and Managing Director of UFC EMEA, said: "We are incredibly excited to announce this event and it is fantastic news for the many UFC fans throughout Germany and the rest of Europe. We are delighted to be returning to Germany in May and visiting Berlin for the first time. Germany is one of the leading world superpowers in sport and to be able to host a UFC FIGHT NIGHT to our passionate German fans will be an honour."
The O2 World Berlin will host the UFC for the first time. Fight card details will be released in the coming weeks.

WEIGH IN
Don't miss your chance to see the UFC stars one day prior to the event at the official weigh in at the o2 World. Of course, Mark Munoz and Gegard Mousasi will take part in the weigh in as well as all other fighters of the UFC FIGHT NIGHT. The weigh in is free and open to the public – make sure you stop by and get a first glance at what to expect on the 31st of May at the o2 World!
Location: o2 World Berlin, Main Lobby
Doors open: 3:30 pm
Weigh in: 4:00 – 4:45 pm
An autograph session is planned to happen after the weigh in with selected fighters.